The 2021 sales figures don't lie. With increased demand for properties in and around Aspen and very low inventory, the need for a connected broker is greater than ever.
According to Aspen Snowmass Sotheby's 2021 Market Report, Aspen Snowmass had another record-breaking year for real estate sales. Average single-family home sale prices were nearly $13 million compared to $10 million in 2020. Of those sales, the average price per square foot was $2,199 in 2021 compared to $1,919 in 2020 and the highest home price was $72 million in 2021 compared to $32 million in 2020.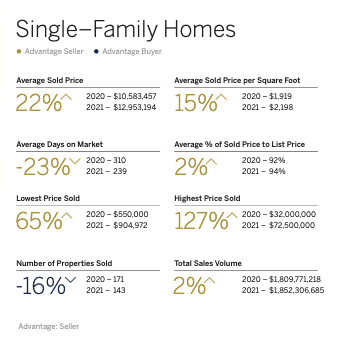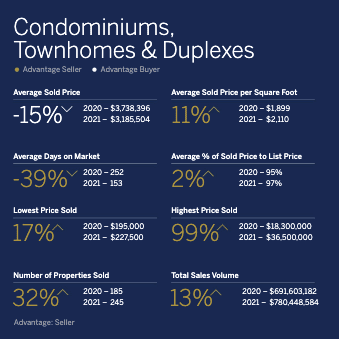 At the Gary Feldman Group, we provide value to our clients by offering responsive and confidential real estate services. We take our clients through the steps of understanding ever-changing market trends, sharing industry insights and providing genuine support. Working with trusted, knowledgeable real estate experts ensures a successful and smooth transaction, especially in today's market.
There's never been a better time to sell
If you're interested in capitalizing on the booming Aspen Snowmass real estate market, there is no better time than now to sell your home. This is a rare opportunity to name your price as the demand for real estate has skyrocketed. Let us get to work for you.
According to Sotheby's International Realty 2021 Resort Report, market speed increased at an expeditious rate. All regions saw a decrease in average days on market, ranging from 187 days at the highest to just seven days at the lowest. Additionally, all areas saw either an increase in the average sold price or total dollar volume sold. The results of 2021 indicate clearly that buyer demand is continuing to go up, and with limited inventory, sellers will continue to be in an optimal position. Aspen alone reached nearly $3 billion in sales last year.

The below chart reflects Aspen and Snowmass Village properties that were pended over the weekend of March 11-13, 2022. Take a look at the days on market (DOM) column which indicates that buyers need to be ready to move quickly by learning the market, studying their preferred areas and being ready to jump on properties that fit their parameters. The bottom line is, sellers are still in control.

Buying a home in Aspen and the Roaring Fork Valley
A seasoned real estate broker understands all the variables and can help put deals together seamlessly. Given that a majority of Aspen-area real estate listings never make it onto the MLS, having an experienced broker who knows how to put deals together is critical. Most transactions now are off market listings, meaning they are for sale or have been sold without any listing on the MLS or public knowledge that the property was available to purchase. Off market properties for sale are made known through a variety of methods: most commonly by word of mouth or through a broker's network. In a fiercely competitive market like today's, it's advantageous to work with an experienced Aspen area broker who can alert buyers to properties that may be available off market or properties that are being shopped quietly without any public notice.
Whether you are looking to sell or buy, the team at the Gary Feldman Group at Aspen Snowmass Sotheby's International Realty knows that the key to achieving that once-in-a-lifetime deal often happens behind the scenes and is orchestrated by leveraging our established relationships developed over many decades.
Our team is regularly contacted for expert insight on Aspen Snowmass real estate, and we use our connections to make nearly impossible deals possible. As part of Aspen Snowmass Sotheby's International Realty, the team at the Gary Feldman Group has helped our clients buy and sell more homes than any other real estate company in the Aspen Snowmass area since 1985.
Whether you're following your heart's desire to purchase a home in our Colorado paradise, or moving on to your next chapter and looking to sell your Aspen-area home, contact the Gary Feldman Group by calling 970.948.3737, emailing [email protected] or visiting our website.
SHARE THIS STORY