The ultra-luxury end of the Aspen/Snowmass real estate market has grown significantly in the last 20 years or so, becoming a market within a market with its own unique trends and characteristics. Likewise, ultra-luxury buyers and sellers are in a class of their own.
Perhaps no one understands this end of the market (currently defined as $10 million and up) and its players better than Gary Feldman, a longtime Aspen luxury real estate broker who joined our team in mid-2013. With the year coming to an end, Gary reflects on where the ultra-luxury market stands, and the unique ways its buyers and sellers work.
The year 2013 was essentially a continuation of Aspen's luxury market rebound, which has been steadily improving since 2010, says Gary. With five days left in the year, 14 sales have closed for $10 million and up — including a $44 million sale in Wildcat and a $41 million sale on Midnight Mine Road on the back side of Aspen Mountain. That's compared to 18 sales north of $10 million in 2012.
"What makes it so unusual is because of the nature of luxury real estate, the luxury market usually rebounds the quickest of all segments," says Gary. In other words, it's something of an indicator.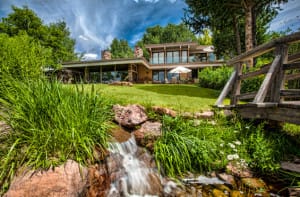 The outdoor space is nearly as luxurious as
the indoors at Touchstone Ranch, a 35-acre
Starwood estate on the market for $18.9 million.
That is indeed the case of this last cycle, which saw a bottoming out of the luxury real estate market in 2009 and a comeback starting in 2010. While the rest of the market was still in recovery, the year 2011 saw a high-water mark reached for ultra-luxury sales — savvy investors were buying properties at significant savings compared to pre-recession times. Then, 2012 appeared to be down until the end of the year, when a flurry of high-end sales closed before changes in the tax code took effect in 2013.
The local luxury market typically goes up for two to three years, levels off and dips for a year, then takes off again, in a kind of stairstep effect, explains Gary. And it's been more or less on the rise since the 1970s, when local politicians downzoned the county so that luxury real estate became a finite commodity.
Yet the market for ultra high-end homes is still a relatively new one. In the mid-1990s, it was rare to have a sale over $5 million, says Gary, who recalls just four in 1996. And in 2004, when a Wildcat Ranch property sold for $26 million, only a handful of brokers had ever done a deal in that range.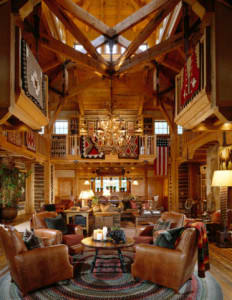 The great room at Meanwhile Ranch,
a 56-acre compound on Lower River Road,
listed for $15.95 million.
Now, with around 100 properties listed for $10 million plus, it pays to understand what's going on in that range — and who the players are.
"One of the primary rules for luxury buyers is they're not buying because they have to," says Gary. And while that may seem like an obvious thing to say, it's something to consider, because it leads into the second and third standards of luxury buyers: Because that person is shopping for a second or third or even a fifth home, they want value, and they take their time.
Ultra-luxury buyers are very affluent, successful people who don't fly in on a whim to drop $20 million on a house, explains Gary. They're very sophisticated and careful with their purchases, and they're shrewd like they are in business.
"No matter how many zeros there are in their bank account, a home is still a big purchase," says Gary.
That means that it takes some time to find the right property. A typical process for a luxury buyer is to have their broker "scour the marketplace" for every possible option, says Gary. They'll often spend several months, over several visits, considering property. And that's why it makes sense to have a broker who is experienced with the ultra-luxury product.
On the other side of the deal, it's important to remember that sellers these days (as opposed to a few years ago) don't have to sell, so buyers shouldn't expect a major deal.
"They've weathered the storm, and maybe they'd like to sell, but they don't want to give it away," says Gary.
On the other hand, ultra-luxury sellers often think their property is more unique — and thus worth more — than it really is, says Gary. But since there are so many properties now in the upper echelons, buyers have plenty of choices in their price range.
Finally, notes Gary, sellers should be aware that international buyers are still few and far between. Despite the fact that international visitation is high (some 20 percent of Aspen Skiing Co.'s business), just 2.4 percent of Aspen buyers come from outside the United States, according to Land Title. And while many Aspen sellers ask that their property be marketed internationally, the potential foreign buyers that are out there will go through local channels if they're interested.
SHARE THIS STORY