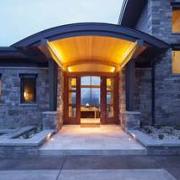 Aspen, as in most geographical locations, has a breadth of residential architectural styles. Locally you can find everything from east-coast craftsman to log cabin, English manor to mountain chateau and, of course, the newly popularized mountain contemporary. The latter has typically found its home in urban settings but as the demand for modern and cutting-edge residences grows, so does the desire for them in Aspen.

At David Johnston Architects, they have had the pleasure of being part of this trend over the past few years. They recently finished a contemporary home in Snowmass Village, and are currently working on a streamlined contemporary home in Woody Creek and

a mountain contemporary home in East Aspen, just outside of town on the way to Independence Pass. Each home has unique custom features that accentuate the natural features of each site – stunning views and abundant natural light, rolling topography, and established natural green spaces. One constant goal with the designed architectural forms in each of the homes is to minimize the visual impact to the site, both from within and when viewed from outside the properties. Each home focuses on inserting the home into the topography rather than on top of the site.


However, the home designs still allow for the large expanses of glass to take in the beauty of the surroundings, clear definition of space and form, and quality functional layouts. Indoor/outdoor space(s) factor into each building, pulling the outdoor living into the homes and vise-versa.

For more modern and other residential and commercial projects by David Johnston Architects, please visit his website:

SHARE THIS STORY